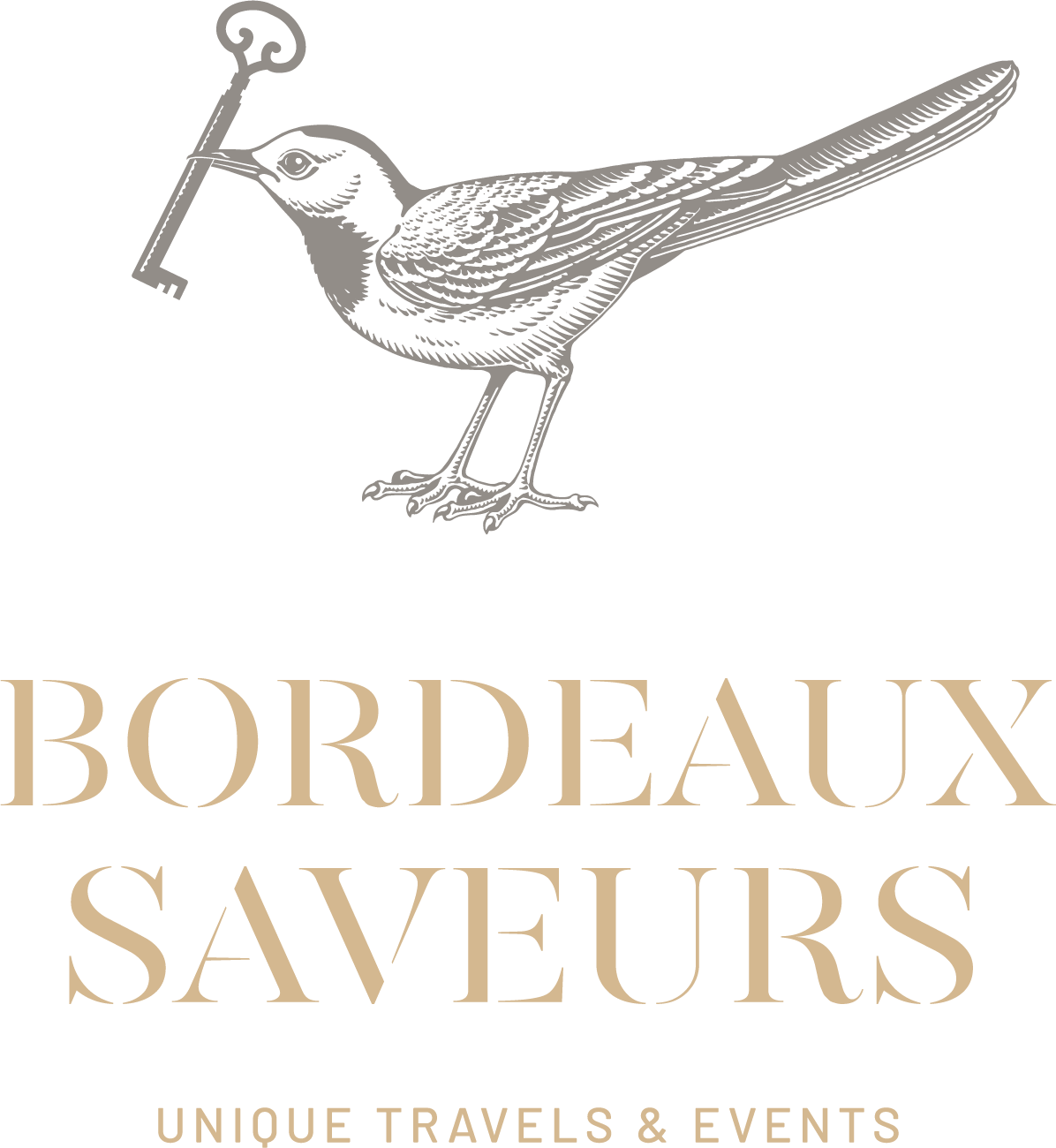 Discover
and tast Bordeaux's
finest wines
during your stay
Let Sylvie Cazes guide you through an exceptional experience. We will take you throughout the vineyards of Bordeaux to discover the greatest chateaux and taste the extraordinary and exceptional vintages.
3 days/3 nights, accommodation in 4* hotel
Explore and share your discoveries with friends and family, individually or together. Whether you bring a group of wine lovers, enthusiasts, tasting clubs, business clubs, or alumni, we will customise your stay to meet your needs and satisfy your curiosity.
We will create together one of the most memorable stays along the vineyards of Bordeaux, no matter whether you are an enthusiast, a wine lover, or a professional. Visit the most prestigious chateaux and experience an emotionally-charged wine tasting experience.
Let's first learn more about each other in order to start the Bordeaux Saveurs experience.
Naturally and in conformity with the RGPD law, we commit ourselves not to communicate your personal information to third parties and to provide the related procedures of the right to be forgotten.
Also, you will not be approached by any Bordeaux Saveurs commercial emailing campaigns.
Day 1 - Bordeaux: Perfect Food and Wine Pairing
Arrival at the train station or airport, meet & greet by your guide and transfer to Bordeaux by minibus.
Lunch in a traditional brasserie in downtown Bordeaux
A Gourmet visit of Bordeaux :
Accompanied by a guide, discover Bordeaux's historical center, part of UNESCO's World Heritage Site, as well as the region's gastronomic wonders (cheese, cannelé bordelais, chocolate...), through several wine tastings.
Dinner Reception in a Wine Gallery in Bordeaux:
All of the ingredients are there for you to enjoy a perfect introduction to Bordeaux wines: a sophisticated and modern venue, an elegant and friendly buffet dinner, as well as the opportunity to taste about 50 different wines thanks to a modern and fun concept of wine tasting by the glass!
Night in a hotel **** located in the heart of Bordeaux
Day 2 - Saint-Emilion: Between Culture and Great Wines
Breakfast at your hotel and transfer to Saint-Emilion
Blending Workshop in a Saint-Emilion Chateau: Be a wine making expert
This workshop will provide you with an opportunity to discover the secrets and characteristics of Bordeaux wines and more particularly those of Saint-Emilion: the importance of choosing the right parcels and the maturation of the wines... At the end of the visit, you will have the opportunity to create with your team a personalized blend and take home a bottle.
Lunch on a winegrower's menu (entrecôte bordelaise with vine stems) in a superb Pomerol property, followed by a visit to the cellars of the Château and wine tasting.
Guided tour of the medieval city of Saint-Emilion, classified as a world heritage site by UNESCO:
The monolithic church, which is entirely dug out of limestone rock, is without a doubt the most original landmark in downtown. During this visit, you will also discover the catacombs, the Hermitage of the monk Emilion, built by arranging natural caves, and the Chapel of the Trinity, a magnificent example of the architecture of the XIIIème century with restored frescoes.
Dinner cruise on a boat:
A private upper deck will be available to your group on this magnificent boat. During your journey, you will discover the architectural unity of the Bordeaux quays and the great variety of its bridges: stone bridges, lift bridges and suspension bridges. Fresh and regionally sourced foods will make your taste buds dance to the rhythms of the river and the flavors of the region.
Night in a hotel **** located in the heart of Bordeaux
Day 3 - Médoc: relax among the vines, share and discover
Breakfast at your hotel and transfer to a Médoc Château.
GPS rally in a prestigious Médoc vineyard:

You will discover the surroundings of a castle in a most original way with this satellite-guided land-based treasure hunt. The teams move from project to project in search of very special beacons (hidden in natural elements, buried in the ground, perched in trees, etc.) guided by GPS.
Afternoon of relaxation : Golf or Spa
For sports lovers: an afternoon on one of the prestigious Médoc golf courses. Remarkably designed, these courses offer a great technical richness, obliging the player to always invent different golf moves
For the epicureans: enjoyment, relaxation and unwinding in a spa, a real cosy green cocoon. Swimming pool, steam room and massages, everything is designed to provide you with exclusive benefits in a zen and warm atmosphere.
Gala dinner in a Médoc Château:
This distinguished Château offers you its elegant and discreet setting making it an ideal reception venue. You will be treated to a memorable dinner at this property with its beautiful surroundings and great wines.
Lunch in a Médoc café-restaurant, on a pretty little village square, typical of the region.
Night in a hotel **** located in the heart of Bordeaux
The schedule of activities, along with all the important moments to capture and share, will be provided to you in advance.
Also, you will receive your communication kit of your experience on social media ( photos templates, and technical information).
Now you know everything! Of course our team is available to provide you with more information if needed to customise your unique stay.
Don't panic, we will only contact you if you wish.
The following price list is for a typical stay (without options) for 6 participants.
It is likely to change for a different number of people. In general, the larger the number of participants, the lower the cost.
Bordeaux Saveurs
Creator of exceptional stays
Bordeaux Saveurs is an exclusive travel agency, specialised in wine tourism. We offer our expertise, our knowledge of the surrounding area and our creativity to help you discover the richness of the Bordeaux region and its way of life.
We dedicate all our knowledge and passion towards local areas to help you discover the richness, assets, singularities and secrets of each of these regions
Bordeaux Saveurs, your incoming agency: Exceptional custom-made trips and events in the heart of the greatest French wine regions